Snapchat for bloggers? How it works!
Snapchat is currently the biggest sow being driven through the social media village. News channel, storytelling tool, chat – the app with the ghost symbol can be all of this and much more. Update at the end of the article!
Despite Snapchat's growing popularity, getting started is far from easy. Richard Gutjahr puts it in a nutshell in an interview
Particularly exciting from my point of view: Richard mentions Snapchat in the same breath as Facebook and Twitter. Numerous US consultants and agencies agree with him.
Sounds exciting, doesn't it? Yes? Then you might have a question on your lips that I keep hearing:
Snapchat for bloggers: How to use it
First of all, a note: If you are looking for a new marketing or sales channel for direct sales, you can stop reading here. Snapchat can be used for this, but it takes a lot of action and content to make it work. From my point of view, this is currently only feasible for agencies and companies with large teams and even larger budgets.
For you as a blogger – regardless of whether you run your blog as a hobby, for your business or with a view to cooperation – in my opinion Snapchat offers one thing above all: direct access to your readers. The chance for real relationship maintenance and feedback.
Read more : Tips to maximize the effectiveness of TikTok 
One of Snapchat's many features is particularly relevant to this approach. In addition to all the great filters and the stories of the publishers, the chat function is what makes the network so special .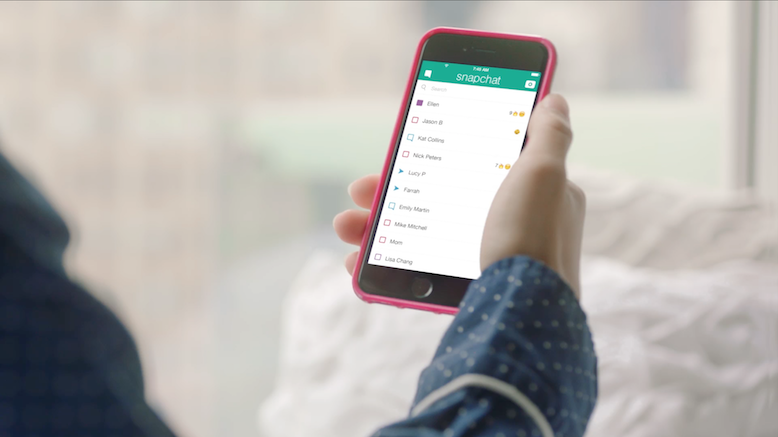 You can use this chat – Snapchat calls it feed – to talk directly to your friends and also to your readers. This works in two ways:
You reply to snaps from friends. You can do this via text, photo or video. Whether or not you can snap a friend depends on their settings. If you are looking to connect with your readers, you should set up your Snapchat account so that anyone can snap at you.
You not only share snaps in your Snapchat history, but also directly with friends if it suits you . Your story is visible to everyone, directly shared snaps end up in the chat with the respective friend.
If you are active on business profile Snapchat every day and also speak directly with friends there, you can maintain existing relationships and build new ones from other networks . And you can ask your readers about their topics, get ideas from them, and get feedback on articles or drafts .
As a blogger, you can embed your Snapcode — your Snapchat profile picture — on your blog or sidebar, share it on other networks like Instagram, Facebook, and Twitter, and invite your readers to talk to you there. A direct and personal communication channel.
Practical examples: How bloggers use Snapchat
So that this does not remain theoretical considerations, I have two and a half practical examples for you. Richard Gutjahr is the first to do so. He has been keeping a Snapchat work diary since the beginning of the year and has briefly summarized some of them as videos.
Richard offers his readers an insight into his everyday work , but shows his private side . This not only makes him likeable, but also serves to cultivate relationships.
Snapchat
Richard Gutjahr is a good example. However, working for TV networks gives him an inherent reach and visibility that most bloggers will never achieve.
So I have another practical example for you: Juli, fashion blogger from Aachen . She runs the blog Fashionattitude and is very active on Snapchat. She not only shows scenes from her everyday life there, but above all she speaks directly to her readers .
For example, she recently asked if she should split a very long blog article into multiple articles. Her readers answered her.
Juli uses the app quite intuitively, as she told me in advance via Snapchat. She simply tells her stories there and speaks directly to her readers. As a result, relationships deepen and readers see new sides of July.
If you want to follow July on Snapchat, just snap the code around the ghost with the Snapchat app and voila, you've added them. This works with all snappers.
Tips for getting started with Snapchat
You may have wondered earlier that I present two and a half practical examples in this article. I'll get to the half example in a moment.
First of all, however, I can recommend Philipp Steuer 's extensive Snapchat Guide and his free Snapchat book "Snap me if you can" .
Half of the practical examples are – attention, self-promotion – my new series, the #SnapTips. They are available daily on Snapchat and three times a week as a summary on YouTube. Here is the current edition.
And as a conclusion to the self-promotion, I refer to the interview I conducted with Philip Steuer about his new book.
Do you already use Snapchat? Then please leave your Snapchat name in the comments and tell me about your experiences. You can find me under sozial-pr.
Update: My day on Snapchat
Since the question of what exactly Snapchat looks like came up again and again in various networks, I used today's work trip to Cologne to summarize my day on Snapchat instead of #SnapTips. I hope the example inspires one or the other to use Snapchat. Have fun with it!